Planetary mixer
Planetary concrete mixer RTM 500 and RTM 750
Planetary concrete mixer RTM 500 and RTM 750 with forced mixing is intended to produce concrete mixtures, mixing ceramics substances or glass, granulates, bituminous mixtures or alternatively organic waste. The rotor is driven by an electric motor with gearbox. The mixer is solid, wear resistant with low maintenance requirements. It is equipped with protective covers with holes for cement and additives charging. Water is fed into the mixer with high-pressure spray nozzles. Both inner wall and floor of the mixer are lined with abrasive steel lining which is easily replaceable. Finished batch is discharged using pneumatically operated discharged gate on the bottom of the mixers. Protective covers are removable. All functions of the mixer can be connected to an automatic device.
Technical data – Planetary concrete mixer RTM 500 (SB 20)
Compacted concrete output per cycle 60 sec.
20 m3 per hour
Filling quantity mixer
500 dm3
Compacted concrete output per batch
0,33 m3
Aggregate size max.
63 mm
Main drive motor
15 kW
Voltage
380 V / 50 Hz
Weight of mixer
1.980 kg
Required air pressure for discharge
0,6 – 0,8 MPa
Required water pressure
0,4 – 0,6 MPa
Technical data – Planetary concrete mixer RTM 750 ( SB 30)
Compacted concrete output per cycle 60 sec.
30 m3 per hour
Filling quantity mixer
750 dm3
Compacted concrete output per batch
63 mm
Aggregate size max.
22 kW
Main drive motor
1.5 kW
Voltage
380 V / 50 Hz
Weight of mixer
2350 kg
Required air pressure for discharge
0,6 – 0,8 MPa
Required water pressure
0,4 – 0,6 MPa
Twin Shaft mixer
Twin shaft concrete mixer
Twin shaft mixer is used to produce concrete and concrete mixtures in a wide range of concrete classes of commonly available components such as sand, aggregates, cement, additives, admixtures and water. Installation can be controlled automatically.Dosage, weighing, mixing and emptying times are controlled automatically, semi-automatically or manually by operator personnel. Withdrawal of a concrete mixture can be conducted in different modes ie. concrete mixer truck, tipper truck or in cooperation with other machinery and equipment such as vibration press machine and others.
Concrete mixer is designed on supporting base which allow production of all types of concrete mixtures. It is used for manufacture of hard concrete mixture. It is used for manufacture of hard concrete mixture. The unit can be used as a separate mixer for concrete production or as part of production line for prefabricated products.
Technical data – Twin shaft concrete mixer

 
Concrete mixer 500
Concrete mixer 750
Concrete mixer 1000
Output capacity
500 l
750 l
1000 l
Mixer volume
800 l
1200 l
1600 l
Capacity of bin for aggregates
1000 l
1400 l
1600 l
Technical performance
25 m3 /h
35 m3/h
50 m3/h
Number of mixing blades
14 ks
14 ks
16 ks
Main drive motor
18,5 kW
30 kW
2*18,5 kW
Winch motor
5,5 kW
7,5 kW
18,5 kW
Speed of aggregates bin
16 m/min
16 m/min
16 m/min
Maximum size of granules
60 mm
60 mm
60 mm
Transport parameters
3050*2300*2680 mm
2786*2480*2151 mm
4640*2250*2250 mm
Weight
4 100 kg
5 100 kg
8 750 kg
Weighting and control systems
Weighting and control systems
The management of the weight dosing process, mixing process of concrete mixture and data collection from tensometric sensors is ensured by weighing indicators.

Weighing indicators include I/O card which manages dosage of individual components. The operator has the opportunity to work in manual (service) and automatic mode. The manual mode, he can control individual devices by drivers in the control panel. In automatic mode the operator turns on the mixer and on the control panel selects the desired recipe and number of doses (mixers). After selecting the button ("Start of production") is pressed. This begin weighing of individual components and their dosing into the mixer to mix the necessary time to create final concrete mixture. The cycle is automatically repeated until the required number of doses (mixers) is fulfilled (completed).
The part of system delivery can also be control and visualization software with the necessary computer equipment.Managing computer system provides automatic control of the production process, also the graphic visualization of production process on the monitor screen, communication with user and possibly with superior system. The computer operates under Windows XP and for data storage SQL database is used. SQL database provides and allows to save the necessary amount of data without undesirable prolongation of response. Function of the management program which provides automatic line operation can be summarized in the following points:
operation is comfortable, the number of recipes and archived data is virtually unlimited, the other data is recorded,
automatic control of technological processes of weighing (fractions of aggregates, cement, water, plasticizer) and mixing (the management of mixing time),
graphical visualization of instantaneous state of weighting and important indicators on the monitor screen in the ongoing processes,
communication with the user (login to the system at various levels, software password protection, input of management parameters, etc.)
data recording:

archiving weighing services (operator name, time schedule for weighing work based on shifts), statements,
archiving and summarization of all recipes weighted, materials based on types of materials, according to the suppliers(or customers) depending on the chosen time period.
Program operation does not require any greater knowledge of work with PC. For system operation no subsequent adjustment of parameters on the control machine is required. The operator controls the entire system through the program.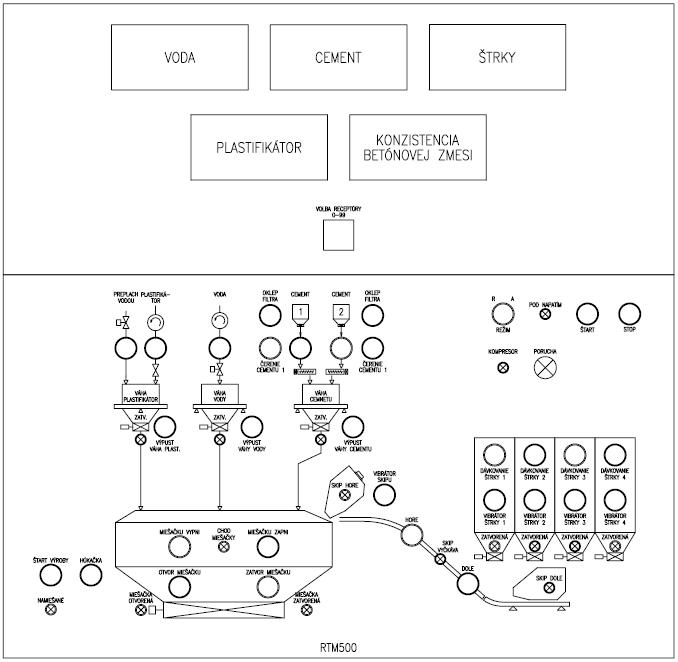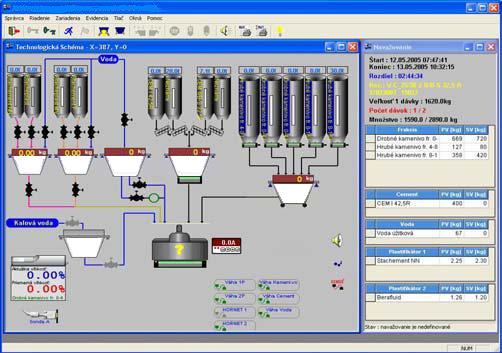 Weighting and control systems
Stone aggregates economy
Reservoirs for aggregates are used for storing individual fractions of coarse and fine aggregates. Method used for filling reservoirs depends on the nature of terrain in which the reservoirs are located and also client`s requirements. Implementation of storage may be provided in the following ways:
wheel loader using access ramp
inclined belt conveyor or bucket elevator
direct dosing from lorry
Stored aggregates are dispensed from reservoirs into aggregate weight by pneumatically operated segment seals placed on the bottom of individual reservoir.
Line reservoirs for aggregates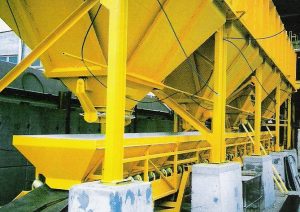 Line reservoirs for aggregatesare characterized by arrangement of chambers in a row. They are mostly designed for one-sided filling (dosing) using wheel loader using access ramp.
The number of chambers depends on the client`s requirements.

Dosing and weighting of aggregates is ensured through segment seals and weighting belt projected depending on the number of ordinary storage chambers of the line reservoir and the weighted number of aggregates. Transport of aggregates between weighted belt and mixer can be assured using skip hoist or inclined belt conveyor.

Star landfill for aggregates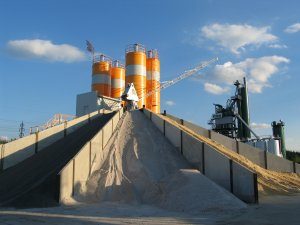 This type of aggregates storage is mainly used in combination with horizontal concrete plants..

The star landfill allows storage from 1 to 5 types of aggregates in separate chambers. Aggregates are transported directly to the dosing segments by radial dose which is located in the center of the star landfill.
Cement economy
Cement economy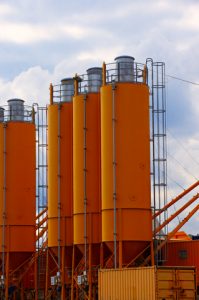 The basis for cement economy in the production process of concrete mixture and other prefabricated products are reservoirs for cement (silos).

In the containers mostly cement and special admixtures are stored (fly ash from burning coal, anhydrite, etc.). Reservoirs are usually filled pneumatically directly from tank truck. Cement or additives (fly ash) are subsequently in the process of production transported from reservoirs to respective weighting equipments by screw conveyors.

Cement silos are equipped with standard safety features (vacuum and underpressure relief valves, pressure switches, etc.), device for measuring the level of cement in the silo (optical or acoustic), air pump for silo aeration and power filters for air cleaning excaping during silo filling. The size of the supplied silo is dependent on the capacity of the concrete plant and customer requirements.


Screw conveyors are designed for transport of cement and additives from reservoirs to cement scale, or eventually to further screw conveyor. 

Each screw conveyor is equipped with electronically balanced spiral worm welded to the central shaft.

Conveyors are made from standardized parts and assemblies according to customer needs and requirements.

Conveyor performance is influenced by the size of its diameter, angle and used gearbox with electric motor.